Durashine from TAF debuts in spoga gafa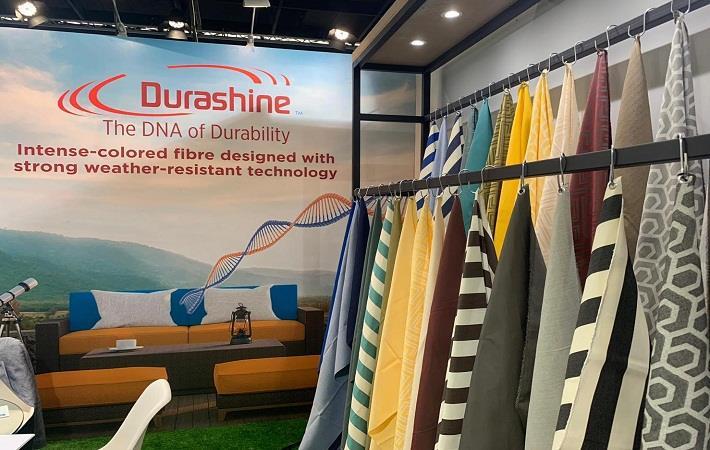 durashine
September 11, 2019 in News
Durashine, the solution dyed acrylic fibre from Thai Acrylic Fibre (TAF) – debuted in the recently concluded Spoga Gafa show in Germany. Durashine's Select partners – Bulliontex and ESG also participated in the show. The three companies displayed a wide range design of fabrics and yarns for outdoor applications like awnings, umbrellas and outdoor furniture.
"With our Durashine Select programme, we are not only offering Durashine as a technology for durable high performance outdoor fabrics but also offering high quality yarns and fabrics with the brand promise of Durashine from our partners. Our technology compliments the design and development capabilities of our partners and this was very well received by the customers we met in Spoga Gafa this year," said Satyaki Ghosh, CEO domestic textiles and Acrylic Fibre business, Aditya Birla Group in a press release by the company.
TAF launched around 60 new fabrics with Bulliontex in the show under Sol-Out functional fabric brand."We were able to impress customers with our new fabrics, ability to customise designs as per their requirement and performance features like weather fastness and UV resistance. We also developed fabrics with lamination and coatings suitable for outdoor furniture that was well appreciated by the visitors in Spoga Gafa. Overall the show was very successful for us," said Thaveechai Sirikulthada (Dev), director of Bulliontex.
European Spinning group displayed their range of colourful yarns made with Durashine fibre for luxury carpets and upholstery. "Over the years we have developed numerous colours of outdoor yarns combining the various shades of Durashine fibre. We have a very wide collection of yarns with unparalleled choices for a customer to choose. We got a great response from the upholstery brands and retailers in Spoga Gafa and we hope to start some new business with many of them," said Julie Liataer, director of Belgium based European Spinning Group.
This was the first collaborative activity by TAF under their Durashine Select programme. "We will continue to build these partnerships and support each other and provide with high quality products for customers around the world. You will see more such collaborative activities from us in the future," added Ghosh. (PC)
Read the original article at: