Durashine steals the show at Pattaya boat show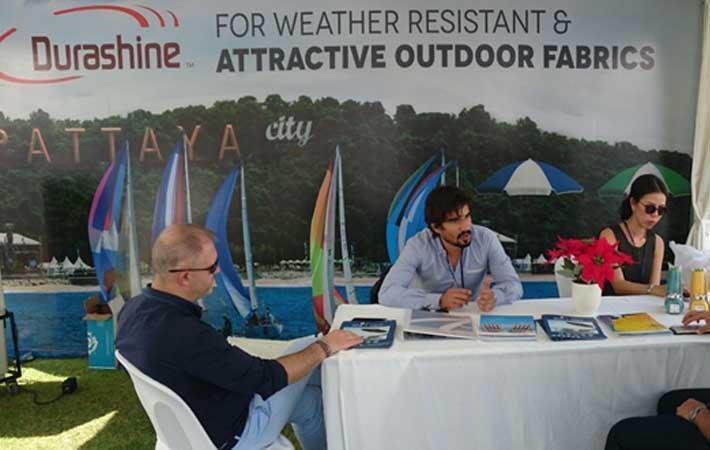 durashine
December 10, 2018 in News
Thai Acrylic Fibre Co, Bulliontex (Thailand based textile group) and Rovitex (innovative multifunctional complex developer) – have developed highest quality outdoor fabrics for Thailand market. Outdoor furniture made from fabrics of Durashine fibre material – a superior quality solution dyed acrylic fibre – were displayed at the Pattaya boat show.
The new fabrics will be used for applications like awnings, outdoor furniture, marine fabrics etc and are manufactured to withstand extreme weather conditions that these applications are subject to ranging from intense UV rays from the sun, heavy wind, uninterrupted rain etc. The fabrics are backed by the performance promise of Durashine fibre which are 'permanent new look', 'long-term strength' and durability', 'fresh fabric appearance' and 'protection from chemicals'. Since extreme weather conditions are quite common in Thailand, the new fabrics are bound to be of interest to the end consumers of such fabrics.
Currently, these fabrics are imported into Thailand but with the association of the three companies, it has become possible to make these fabrics locally available, 100 per cent made-in-Thailand – from fibre to final outdoor furniture.
"We are proud to offer a solution for the local market with 100 per cent made in Thailand ingredients and products with our Durashine select partners. We are committed to offer innovative solutions to the industry and Durashine with its weather resistant properties is a great product for Thai market", said Satyaki Ghosh, CEO Thai Acrylic Fibre and domestic textiles.
"Thailand is a good market for outdoor fabrics. Our customers like furniture suppliers, awning makers, yacht & boat manufacturers want the best quality products. Thailand is becoming a boating heaven and the yacht industry is growing with more than 10 per cent every year. We, therefore, decided to foray into manufacturing the premium solution dyed acrylic fabric range under brand-name 'Sol-Out', which is the highest performance fabric for such applications and Durashine fibre from Thai Acrylic has been the key ingredient for this development," said Thaveechai Sirikulthada, director of Bulliontex.
"We are proud to partner with Bulliontex and Thai Acrylic team in developing a laminated and complex technical product. Till date, we had to depend on imported fabrics only for high end applications, but now with this association, we'll add value to our customers and consumers," said Thibault, CEO of Rovitex. (PC)
Read the original article at:
https://www.technicaltextile.net/news/durashine-steals-the-show-at-pattaya-boat-show-246158.html