Durashine to display full range at spoga+gafa 2019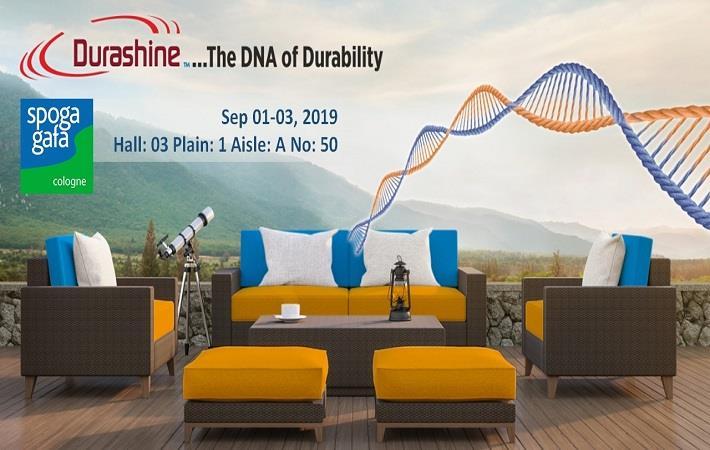 Durashine, the premium quality solution dyed acrylic fibre from Thai Acrylic Fibre Co. Ltd (TAF), a part of Aditya Birla Group, will be on a complete show with a range of products at the upcoming Spoga Gafa show in Cologne from September 1-3, 2019. At its stall, TAF will display the products for outdoor application made with Durashine fibre.
The outdoor fabric partner for TAF is Bulliontex (Sol-Out fabric brand) and the yarn partner is European Spinning Group (RA Outdoor yarn brand) and they will display their products during the show.
"Durashine from TAF is suitable for various outdoor applications including awnings, outdoor-furniture, carpets and marine exterior, etc. Colour brilliancy, durability and performance characteristics of these yarns remain unchanged year after year as it is produced by highly advanced technology," a TAF press release said.
"Spoga+Gafa is one of the most important shows for us this year and we will be presenting the whole package – fibre, yarn, fabric and end-products – from our Durashine select partners. It is an effort from our side to provide all solutions under one roof with the performance promise of Durashine," says TAF chief marketing officer Ashwini Chotani.
"Our Sol-Out fabric range which is made with 100 per cent Durashine solution dyed acrylic fibre has been developed for all-weather outdoor products and our USP is that we combine high performance with varied designs so that our customers have lots of options to choose from. We are exhibiting for the first time in Spoga+Gafa and we are confident that the customers will like what we have to show to them," adds Bulliontex director Thaveechai Sirikulthada (Dev).
"We have a long-term association with TAF and Aditya Birla Group and in the past few years we have seen a good growth in our outdoor yarn business. Our range called "ESG RA Outdoor" has been designed exclusively for "Under-the-Sun" luxury applications, including outdoor furnishings, carpets and awnings. Our yarns are available in a colour pallet of more than 100 shades both in single, folded and fancy yarn form to stimulate creativity—all made with Durashine," adds Julie Lietaer, drector of European Spinning Group.
All the three companies will display the outdoor range in Durashine booth in Spoga Gafa. (RKS)
Read the original article at: 
https://www.technicaltextile.net/news/durashine-to-display-full-range-at-spoga-gafa-2019-251513.html