TAF & Sol-Out to launch anti-microbial acrylic outdoor fabrics in IFAI Expo 2020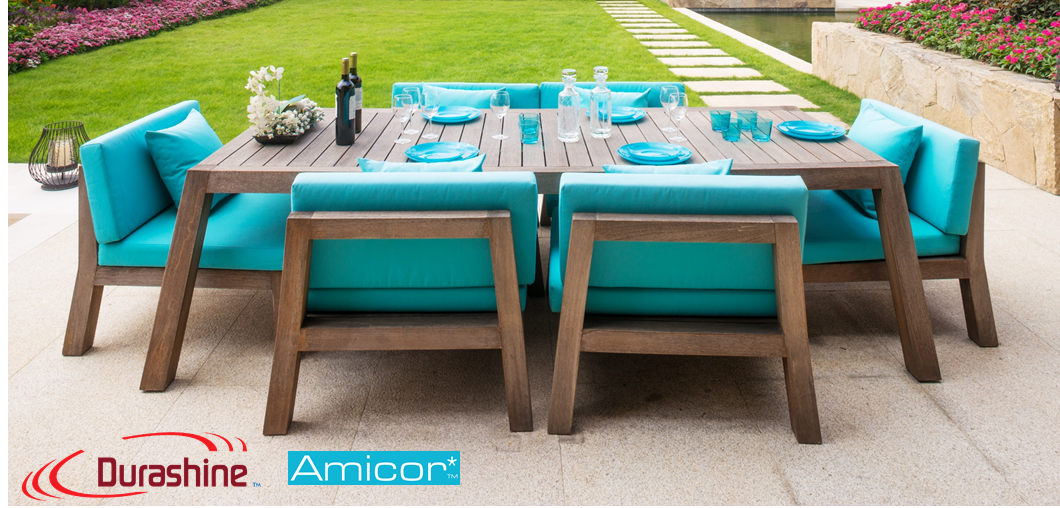 Thai Acrylic Fibre Co. Ltd. (TAF) and Sol-Out® brand will launch a new collection of anti-microbial Outdoor fabrics in the upcoming IFAI Expo 2020. This 100% Acrylic collection is made by combining two specialty fibres of TAF – Durashine™ and Amicor™.
Durashine™ fibre is a high performance solution dyed acrylic fibre suitable for various outdoor applications including awnings, outdoor-furniture, Carpets and marine exterior etc. Color brilliancy, durability and performance characteristics of fabrics made with Durashine™ fibre remain unchanged year after year, as it is manufactured using highly advanced technology that supports weather and UV resistance.
Amicor™ is an anti-microbial fibre, which is specially engineered by incorporating additives into the core of the fibre. The fibre has shown its effectiveness against bacteria, fungi and lately against viruses. In a recent test done according to ISO 18184:2019 against SARS-Covid-2 virus (COVID-19), Amicor™ has shown to reduce the number of infective virus particles by 99% in only 18 seconds.
The new range is made specifically for Outdoor Upholstery, as the occurrence of human contact is much more. "Studies have shown that microbial (bacteria or fungus) activity increases with increase in moisture. Outdoor fabrics, even though with water repellent treatments, are subject to changing conditions of temperature and humidity a lot more than other textile products. Therefore, we came up with the idea of developing this range with Durashine™ and Amicor™", says Mr. Thaveechai Sirikulthada (Dev), Director of Bulliontex (Sol-Out® brand).
The range will be launched alongwith 100% Durashine™ Solution-dyed acrylic fabrics for Shades, Upholstery and Marine Canvas. "We had a very good experience last year at IFAI Expo where we realized that the Outdoor manufacturers and buyers are looking for new innovations. Therefore, we strongly believe that this new range will be appreciated by the customers who will visit the show", adds. Mr. Tuhin Kulshreshtha, Head of Marketing Value Added Products, TAF.
The news is also available on Specialty Fabrics Review
TAF and Sol-Out to launch antimicrobial acrylic outdoor fabrics at IFAI Expo 2020
Amicor™ is a trademark of Thai Acrylic Fibre Co. Ltd.
Durashine™ is a trademark of Thai Acrylic Fibre Co. Ltd.
Sol-Out® is a trademark of Bulliontex Co. Ltd.