Thai acrylic to promote Durashine fibres at yacht show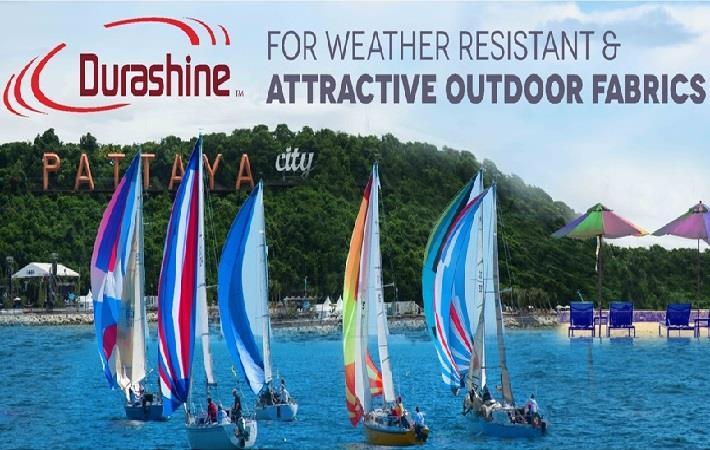 durashine
November 22, 2018 in News
Thai Acrylic Fibre Company Ltd (TAF) is going to promote Durashine fibres at the Ocean Marina Pattaya Boat & Yacht show 2018 to be held at Pattaya Marina from November 29 to December 2. Durashine is produced with highly advanced solution dyeing technology which makes it permanent weather resistant and ensures unmatched durability of more than 5 years.
Durashine protects the fabrics from sunlight/UV rays, heat, heavy rain, and saltwater/chemical/mechanical weathering.
TAF with his Durashine Select Partner Bulliontex & Rovitex has developed a wide-range of outdoor fabrics from its solution dyed acrylic fibre Durashine. The premium fabrics are used in all types of under-the-sun applications like awnings, garden umbrella, outdoor furnishings, and also marine/boat exterior/decorative/sail fabrics.
Durashine Select Partners will assure that the end consumers get all of Durashine's brand promise and best value of their investment.
"We have now developing Outdoor Fabric business with Durashine in Thailand with our partner Bulliontex. Through this show we plan to promote the marine and decorative fabrics made from our Durashine fibre. The yacht industry in Asia is growing by more than 10 per cent every year and it is becoming a very important market for high-end fabrics. Through this show, we hope to meet some customers who would buy these fabrics for yachts and outdoor application and give a boost to Durashine fibre business," Ashwini Chotani, CMO, TAF, said. (RKS)
Read the original article at:
https://www.technicaltextile.net/news/thai-acrylic-to-promote-durashine-fibres-at-yacht-show-245813.html